Are you trying to grow your YouTube Channel fast, but don't know how to? As we all know, the YouTube algorithm is ever-changing and it can be frustrating to figure out how to get more attention to and grow your channel. But don't fret, in this article, you will learn all the tips and tricks you need to know to grow your YouTube channel. 
Advantages Of Having a YouTube Channel For Your Business:
What most people don't realize is that YouTube is a search engine. Therefore, if you want people to find you, then the people need to find you when they are searching for what they need. As Jessica Stansberry  puts it, "My YouTube channel was a way to get people who needed me and what I taught to find me". It's also helpful to have a channel for your business as it functions as a funnel for people to find your business. In this way, people come out of their search phase and want what you have to offer. With the rise in technology, it's quite beneficial to have a YouTube channel for your business. 
What Are The Best Practices To Grow Your YouTube Channel
When one thinks of ways to grow their channel, a lot of ideas come to mind. However, the following practices have been known to help grow your YouTube channel significantly. 
Niche
To cater an audience, you first have to know who your audience is. Though it seems like a good idea to appeal to a broad audience, research has shown that channels that focus on creating to a specific audience are the ones that are the most successful.
Consistency
 In every scenario, consistency will always outweigh all other factors. Even if you are the best in what you do with your channel but aren't consistent, the person who is will beat you. 
Searchable Terms
Focus on having searchable terms in your titles and descriptions which will help people find you as they are searching for what they need. You can use tools such as Tube Buddy or Keywords Everywhere to help analyze key terms. Tube Buddy shows you stats for all the keywords. By finding what your audience wants, you can tailor your content to best suit them.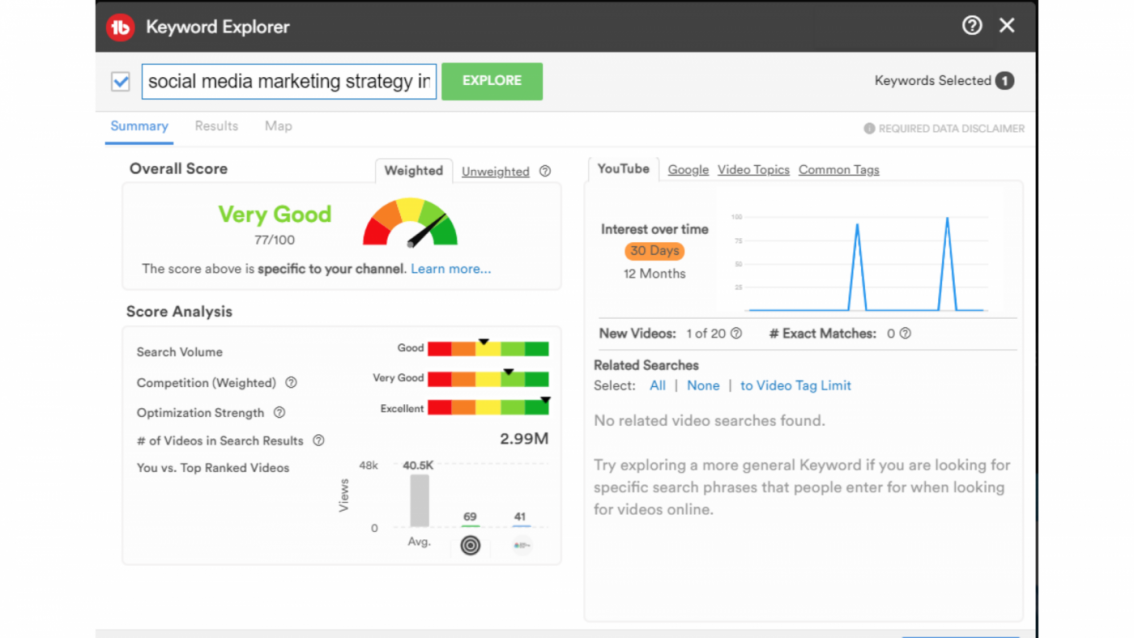 The Most Important Analytic: Audience Retention
When one goes to view YouTube analytics, many things show up. However, audience retention is the one analytic you should focus on when trying to grow your channel. Audience retention means how much of your audience's attention you have while they are watching your content. This is important because if the YouTube algorithm sees that most of your audience only watch 20-30 seconds of your 5-minute video, it will show the algorithm that people don't want to watch your video. Therefore, it's important to have content that catches your audience's attention and keeps them hooked until the end. 
Main Factors To Consider While Creating Content
As mentioned above, it's your content that keeps your audience engaged. Below are some of the main factors to consider in your quest to create content. 
Title
Your title is what gets you found in search, therefore it should be tailored to your specific audience. There are so many title generator sites where you can do research based on your topic and niche. 
Description 
It's recommended that you use the same keywords you used in your title for your description. YouTube has said that the first two lines are the most important, so you should focus on reiterating the keywords you used in your title and other keywords similar to them in those two lines. For example, if your video is about teaching people how to use StreamYard, the first line of your description should be along the lines of, "In this video, I will be teaching you how to use StreamYard". You should follow that up with "And in this tutorial in which I show you how to use StreamYard, I'll be showing you why you need to use StreamYard. As for the rest of your description, it's okay to get conversational. 
Thumbnails
Thumbnails are what get people to click on your video rather than someone else's. It's recommended to use colorful thumbnails as they stand out from the rest and help to evoke the audience's emotions. 
Suggested Videos
The purpose of the YouTube algorithm is to pair the right viewer with the right video. It will show viewers videos based on what they are currently watching, therefore having a niche is key to having your video suggested. It will also show them videos similar to those they are watching from people they follow. So if you find a channel similar to yours and analytics show that your viewers have also viewed their video, try and figure out a way to create content similar to theirs, so that you can show up on their suggested. 
Biggest Mistakes 
While it's good to figure out all the things you should do to grow your channel, it's equally important to know what you shouldn't do. Below are some of the common mistakes made by people while trying to grow their channel. 
Not Focusing On Search 
It may seem like a good idea to throw a bunch of stuff at the algorithm and hope that something takes off, however that's not true. As mentioned before, tailoring your search to your niche is one of the best ways to have your video seen by people. 
Not Being Yourself
You can't build a business or an audience around a fake persona. It's important to be the person you're showing yourself to be on camera in real life.
Growing a YouTube channel does not happen by accident. It requires planning and strategy to grow your channel. Whether you own a soap shop business or a real estate agency, the biggest key to your success is having a YouTube channel. Although some of the tips mentioned above require more effort than the others,  they can help you get more eyes on your YouTube channel and in the end more subscribers. As Jessica Stansberry has said, make it your mission to grow your channel. Focus a big chunk of your energy on growing your YouTube channel, and it will pay off. 
Related Resources:
Start a successful YouTube channel